Back to the news
28 January 2020
---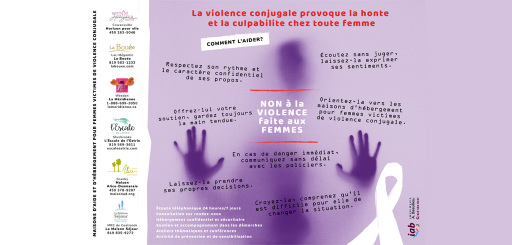 Placemats to raise awareness about domestic violence will be distributed throughout the MRC by La Méridienne, a shelter for women victims of domestic violence and their children.
Wearing of the white ribbon, distribution of informative placemats on domestic violence and its resources, workshop to help women, holding a vigil and awareness campaign on social networks mark the various activities that will take place within the framework of the 12 days of action against violence against women.
The Center des femmes du Haut-Saint-François, La Passerelle, is partnering with La Méridienne, a shelter for women victims of domestic violence and their children, to offer various awareness-raising activities.
This national movement takes place from November 25 to December 6. The organizers invite the population to reflect collectively on the violence that women suffer, why they are still victims of it and how it is an obstacle to equality between men and women. It is also a time to remember the polytechnic attack where 14 women were murdered because they aspired to do a mainly male job.
The organizers want to raise awareness about all kinds of violence. "Domestic violence includes several forms of violence. Physical violence, verbal and psychological violence, economic violence, sexual violence and we can also talk about social violence," explains Élysabeth from La Méridienne, adding that there is also sexism and sexual assault which are also very covered topics. For Marilyn, a worker at the Center des femmes du Haut-Saint-François, there are other forms of violence that are often ignored. "The institutional violence, including us, is something we see a lot here. For example, women who are on social assistance and all the barriers that prevent them from having access to rights to have a decent life. We consider that it is violence mainly against women because it is women who are the poorest, and therefore the most affected. »
As of November 25, the public will be invited to wear the white ribbon, which will be provided to the HSF Women's Center. This date marks the International Day for the Elimination of Violence against Women in memory of three Dominican women murdered by the Trujillo dictatorship in 1960 because they embodied the resistance. Several placemats will be distributed by La Méridienne throughout the MRC on which will be found the coordinates of the premises of the shelters and statistics on domestic violence.
La Passerelle invites women citizens to take part in a workshop on December 3 aimed at helping women rebuild themselves following domestic violence, but also to give advice to those who support victims.
On December 6, a vigil will be held at the Women's Center. Contrary to usual, it will be a mixed activity and the whole population is invited outside, at the front of the center. "There will be speeches to explain what the 12 days are, what is the meaning of December 6, the attack on the Polytechnic school, then also, there will be a minute of silence where we will invite 14 women to hang balls with the names of the 14 victims", explains Marilyn. An awareness campaign will be carried out on social networks by publishing various texts.
To register for the workshops or obtain a white ribbon, citizens can go to the Women's Center, 275 rue Principale Est in Cookshire-Eaton or call 873 825-7060.
November 25, 2019, 10:50 a.m., by: Fay Poirier
http://journalhautsaintfrancois.com/2019/11/25/contrer-la-violence-faite-aux-femmes-12-jours-daction/
---
You liked this article?
Share it!